Contact us
Hello! Do you have a query about bookings or cancellations? If so please check under the respective tabs below. If you feel your question has still not been addressed please contact us using the form below.
Booking
The easiest and fastest way is to book your musical tickets is on this website. You may also contact customer service on +353 1 526 24 64. Or e-mail your booking via our contact form on this page.
Cancellation
While it is generally not possible to change or cancel tickets we will do what we can to help you if you cannot make a show. Should you be forced to cancel or change a booking, please e-mail us via the contact form on the right, include your booking number, and we will, without making any promises, check to see if it is possible to change or cancel your tickets. If the resale of your tickets is possible, we will first need approval from the theatre and then a confirmation that we are not going to be charged for your booking. It is not unusual for this process to take quite some time, which is why we, in many cases, will not have a definite answer as to whether the tickets could be re-sold or not until one or two weeks after the date of the actual performance. We understand that this is less than ideal for you, but unfortunately it is a necessity for us.
Management
If you wish to get in touch with the management of LondonMusicals.ie, please fill out the form on the right. You may contact us, for example, about: a question that has not been satisfactorily addressed by customer service, a job application or request to become a partner.
LondonMusicals.ie powered by Ticmate
LondonMusicals.ie
Telephone HQ Sweden: +46 8 446 808 44
Telephone UK: +44 20 3870 3444
Telephone US: +1 855 325-0977
Ticmate AB ®
Nygränd 10, 1tr
SE-111 30 Stockholm, Sweden
Org.no. 556710-6017
VAT.no. SE556710601701

Email

+353 1 526 24 64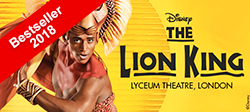 Book