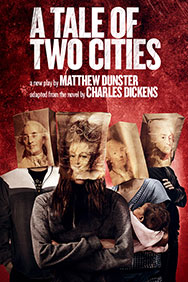 A Tale of Two Cities
At Regent's Park Open Air Theatre
Price from € 32.40
A Tale of Two Cities in London is one of the darkest and most romantic of Dickens' novels, Book tickets for A Tale of Two Cities in London here!

In a time when governments all over the world are facing down political unrest and fierce protests, this revolutionary story has never been more relevant. Retaining the thrill and tension of the French Revolutionary setting but merging it with a modern, East London aesthetic, the production reimagines Dickens' dangerous and doomed antihero Sydney Carton as a member of the 27 Club (which includes Jimi Hendrix, Janis Joplin, Kurt Cobain and Amy Winehouse).

The adaptation marries three of the finest artists in their own fields that England has ever known: Dickens the master story-teller, Rattigan the great playwright and Gielgud the mercurial actor. Gielgud intended to play both Sidney Carton and a number of other roles, and this production will realise that ambition – and show off the talents of an incredible team of performers - by having thirty characters played by just eight actors.
Venue information
Performance info
Booked from
2013-09-28
Booked for
2013-10-19
Duration of performance:

Directions

(10 mins) Exit onto Marylebone Road and turn left. Past Madame Tussauds turn left into York Gate and follow York Bridge to the end. Pass through the large gates into the park and walk straight until you reach the theatre on your left.

View map