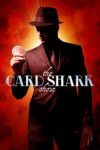 The Card Shark Show
At Courthouse Hotel Theatre
Price from € 37.90
The Card Shark Show in London is truly an amazing magical show. Book your tickets for The Card Shark Show in London here!

One of the UK's foremost Magicians and close up magic star Steve Truglia amazes London's West End Audiences with classic card tricks, cheats and scams in this unique and interactive multimedia show, with film, images music and live camera action, to bring close up magic to every audience member.

Having passed the notoriously rigorous performance exam for The Magic Circle, Steve sought out long ago hidden secrets within the Magic Circle's incredible library, to further study these dark arts. In earlier life Steve's time with UK Special Forces taught him the use of psychological operations to defeat an adversary; skills which are also used by gambling cheats and con artists to this day.

Steve has now been awarded the highest degree within the Magic Circle, attainable by examination, that of Associate of the Inner Magic Circle, (AIMC); he is one of only 300 people in the world to hold this distinction.
The Card Shark Show Reviews
"Truglia explains the evolution of cardistry from the toolbox of the gambling cheat to the close-up table of the magician"
GQ Magazine
---
"Enthralling and intriguing, his sleight of hand is clean as a whistle"
The Sat
---
"Fascinating"
The Guardian
---
Venue information
Performance info
Booked from
2014-09-12
Booked for
2014-09-26
Duration of performance:
1 hour 10 Minutes
Directions