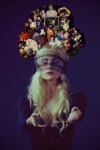 Then
At Studio at The Vault Festival
Price from € 24.10
Collecting stories, voicemails, pictures and playlists from around the world, Yve Blake is asking 5 year olds to 95 year olds for tales in which their past selves play the lead. Using handcrafted music and decadent visuals, Yve brings these stories to life onstage in a celebration of the idiots, strangers and heroes that we used to be. With 'sheer ingenuity' (TimeOut), Yve's music samples everything from orchestral flourishes to flushing toilets, and rarely misses the opportunity for a dance break.
Venue information
Performance info
Booked from
2014-02-25
Booked for
2014-03-01
Duration of performance:
1 hour
Directions

Leave Waterloo via Exit 1. Turn right onto Station Road Approach & keep on the right hand side. Walk to the bottom of the road & down the first set of stairs. Turn right at the bottom & the entrance is 10m on the right hand side.

View map