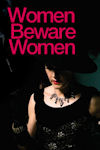 Women Beware Women
At Olivier Theatre, National
Women Beware Women, set in Italy, where wealth equals power - and power is equal to corruption. Tickets for Women Beware Women here!

In the Italian court, where wealth secures power and power serves lust, the lascivious Duke can play wherever he chooses. He catches the eye of another's exquisite bride, Bianca. Can a glance secure her fate, a bribe appease her husband?

Isabella's father would marry her off to a rich young idiot, while Hippolito has won her trust and desires her truly. But he's her uncle. These are her choices. If twice-widowed Livia conspires against her sex to gain a little clout, she's only fighting to survive.

Corruption will not go unpunished in Thomas Middleton's blackly funny, fast and ferocious tragedy.
Venue information
Performance info
Evening performance
Dates vary, check times.
Booked from
2010-04-20
Booked for
2010-07-04
Directions

(10mins) Follow signs for exits to the South Bank. This should lead you to an underground pedestrian passage called &lsquo;Sutton Walk&rsquo; that emerges at the South Bank. Turn right and walk along the river Thames until you see the National Theat</p

View map