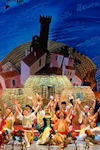 Cipollino
At London Coliseum
See Cipollino at The London Coliseum in London. See the amazing martinée Cipollino in London. Buy tickets here!

The fairy-tale story by Italian author Gianni Rodari tells of the adventures of the Little Onion boy (Cipollino), who fights the unjust treatment of his fellow vegetable folk (his little girlfriend Radish, old Mr Pumpkin, handyman Master Grape) by the fruit "aristocracy" (foppish Prince Lemon, martinet Signor Tomato and the Count Cherry).

Although the ballet was created especially for young people, it never lacks the "serious" choreography of classical ballet. The principals of the Mikhailovsky Ballet really enjoy themselves turning from Siegfrieds and Odettes into 'vegetables' and 'fruits'. The rhythms of dance, the portrayal and humour of the characters and the exceptional performances keeps everyone enthralled.
Venue information
Performance info
Matinee
2pm
Booked from
2010-07-17
Booked for
2010-07-24
Directions

(3mins) Take Cranbourn Street until St Martin's Lane, where you head right until you reach the theatre.

View map