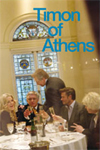 Timon of Athens
At Olivier Theatre, National
Price from € 49.60
Wealthy friend to the rich and powerful, patron of the arts, ostentatious host, Timon of Athens showers gifts and hospitality on the city's elite. He vastly outspends his resources but, finding his coffers empty, reassures his loyal steward that all will be well.

When he calls upon his erstwhile associates, instead of offering help, they hang him out to dry. After a final, vengeful banquet, Timon withdraws to a literal and emotional wasteland, living off roots and pouring ever more surreal curses on a morally bankrupt Athens.

Simon Russell Beale takes the title role in Shakespeare's strange fable of conspicuous consumption, debt and ruin, written in collaboration with Thomas Middleton.
Venue information
Performance info
Evening performance
Monday to Saturday 7.30pm
Matinee
Wednesday and Saturday 2pm and Sunday 3pm
Booked from
2012-08-05
Booked for
2012-10-31
Directions

(10mins) Follow signs for exits to the South Bank. This should lead you to an underground pedestrian passage called &lsquo;Sutton Walk&rsquo; that emerges at the South Bank. Turn right and walk along the river Thames until you see the National Theat</p

View map